Project title: Our Children Are Now, Conflict transformation and prevention in the Moroccan Child Protection Centers
Years: April 4, 2018 –  June 2016
Donor: Global Affairs Canada
Conflict transformation and prevention in the Moroccan Child Protection Centers
On April 4, 2018, Her Excellency Jody Wilson-Raybould, Minister of Justice & Attorney General of Canada, visited one of several Moroccan Child Protection Centers that we work with. There, she met with our Morocco Country Director, Noufal Abboud. During this visit, he shared with her the outcomes of our projectOur Children Are Now.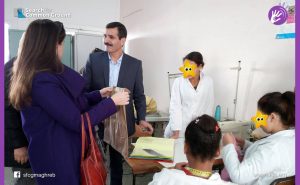 Additionally, several other important Moroccan and Canadian stakeholders attended the meeting, including representatives from the Moroccan Ministry of Youth and Sports, Her Excellency Nathalie Dubé, Ambassador of Canada to Morocco, and Mrs. Regina De Dominicis, a representative from UNICEF Morocco. Also present was Ms. Atika Doghmi, the project coordinator for Our Children Are Now, and the Chief of Staff of the President of the Moroccan Parliament, Mr. Kamal Hachoumi, who we previously commissioned to conduct a training for Child Protection Centers directors.
As part of Our Children Are Now, we work with 15 Child Protection Centers across Morocco to improve conflict dynamics. The ultimate goal is to reduce the vulnerability of at-risk Moroccan children to delinquency.
Moroccan Child Protection Centers face a number of operational and institutional challenges that prevent them from ensuring children's successful social reintegration. These centers are overcrowded, do not meet international standards for child protection, and often struggle with high levels of violence. This increases the risk of violent radicalization among children and creates problems around reintegration when they return to society.
Our Children Are Nowseeks to reduce the susceptibility of these children to violent extremism by institutionalizing several modern conflict transformation techniques, including mediation. By decreasing violence against children in youth detention centers and increasing children's capacity to resolve conflict, this initiative will contribute to reducing the rate of recidivism once children return to society. It will also decrease the possibility of violent radicalization.
Currently, we are implementing a series of Training of Trainers (TOT) for protection center staff. This will equip them with the pedagogical tools needed to train children in conflict management and life skills.
Our Children Are Now is supported by Global Affairs Canada.