Project Title: Increasing Civic Participation of Urbain Youth In Morocco
Years: September 2012 –  December 2014
Donor: United States Agency of International Development (USAID)
Target Cities: Agadir, Al Hoceima, Casablanca, Marrakech, Meknes, and Sale, Morocco
More and more young people are realizing that they have the power to change their community through dialogue and local engagement. We're working with young people to encourage their participation in society and local governance as positive leaders for the future. Through competitions, online social media, radio, and television, urban youth are getting inspired to be involved and make positive changes.
We've brought together 150 young people between the ages of 18 and 30 to form youth councils of 25 people in six different cities throughout Morocco. These councils are designed to be a platform for young people to work together as a group and engage with officials and community leaders. The youth councils are also helping other youth to understand local governance
and how to advocate for their priorities. The council members have chosen five local governance issues that are priorities for the youth in their communities and are working in a democratic and transparent manner with local decision-makers to achieve real change.These local governance projects will tackle issues such as ensuring greater understanding and participation by youths in politics, community volunteering in rural areas and greater engagement between youths and local officials. Councils have also organized local projects, for example, youth council members in Salé have worked to establish micro-businesses in order to address youth unemployment and youths in Meknes have been involved in volunteering at local orphanages.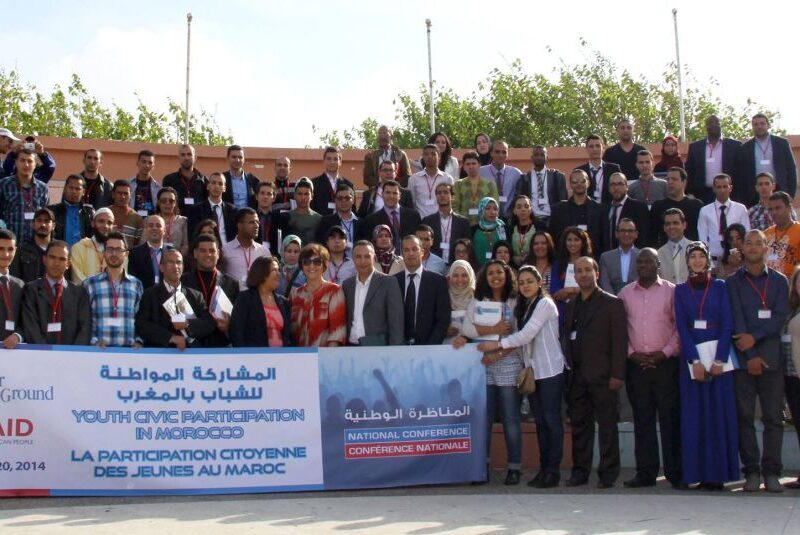 "I learned how to debate and discuss my issues, how to define solutions, how politics works."

– Salé Youth Council member

"Since the beginning of the project, young people are more motivated and insist on forwarding their ideas and to make them real through interaction with leaders."

– Al Hoceima Youth Council member
In Marrakech and Meknes, youth council members worked closely with their local communities and conducted Democracy Level Assessments. They interviewed over 300 people ranging from elected officials to business leaders, and their findings were compiled alongside recommendations for building local democracy. They also created educational videos, which were shared on Facebook and YouTube and were also presented during a press conference. This is just one example of the hands-on learning that takes place in the youth councils.
Youth council members and elected officials also came together for a program of intense training in alternative methods of conflict resolution, social entrepreneurship, and citizenship. These training sessions are designed to help youth and government officials engage in constructive discussions. A total of three youth council members will also go to Chicago and Atlanta in September 2014 to participate in the CANEI National Youth Advocate Program, designed to teach youth civic participation skills such as helping others develop compassion and empathy. The skills they learn will be brought back and shared with their own communities.